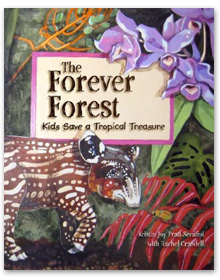 The Forever Forest: Kids Save a Tropical Treasure by Kristin Pratt Serafini and Rachel Crandell
Just in time for the 20th anniversary of the Children's Eternal Rainforest comes a gorgeously illustrated children's book. Last year Kristin Pratt Serafini accompanied Rachel Crandell on a trip to El Bosque Eterno de los Ninos to get to know the forest before she began her beautiful paintings. Her rich hues give a true picture of the colors of the rainforest of the BEN. The accurate and artistic depiction of the plants an animals are expounded upon in sidebars that accompany the text of the story. Peter and his mom, Anna, have come all the way from Sweden to visit the forest she helped to start in 1987 when she was a child. You, too, can hike with them and learn from Dwight and Rachel as they share the forest. This book is a celebration of the forest that has been preserved forever by the efforts of children all over the world!
"Never let anyone tell you that you can't change the world. For the creatures that call the Children's Eternal Rainforest HOME, the children who saved that forest made the difference between life and death. I feel so grateful that Rachel Crandell and Kristin Joy Pratt have finally told the story of El Bosque Eterno de los Nino's testament to the power of children." Lynne Cherry, author, The Great Kapok Tree
If you order your autographed copy from MCLUS directly, the entire profits (50%) will go to the BEN
Price: $16.95 plus postage and handling = $20
Please make out checks to "MCLUS" and send to 1128 Weidman Rd., Town and Country, MO 63017
ISBN 978-1-58469-101-3 Ages 5 to 11

Hollywood Gala for MCLUS May 8
Mark your calendars! You are invited to a star-studded Gala Party hosted by Daryl Hannah to celebrate the BEN and raise money to support the purchase of land to create a Pacific Slope corridor of reforested habitat. It will be held in Hollywood on May 8 at 7:30 p.m. The Gala tickets will be $150. Be the first to see the premiere of a short film about El Bosque Eterno de los Ninos.

Costa Rica Adventure of a Lifetime July 14-27, 2008
Only a few spaces remain on the July 14-27, 2008 trip with outstanding guides focused on tropical conservation, wildlife viewing, great photographic opportunities, hiking, reforestation service project, rafting, visit to a school and local homes, etc. Two weeks for $1795 includes everything except airfare and departure tax. Deposit $200 will hold your spot. For more info see the www.mclus.org Ecotourism page or email Rachel at info@mclus.org.